Brexit: EU Citizens Given 28 Days Notice to Apply for EUSS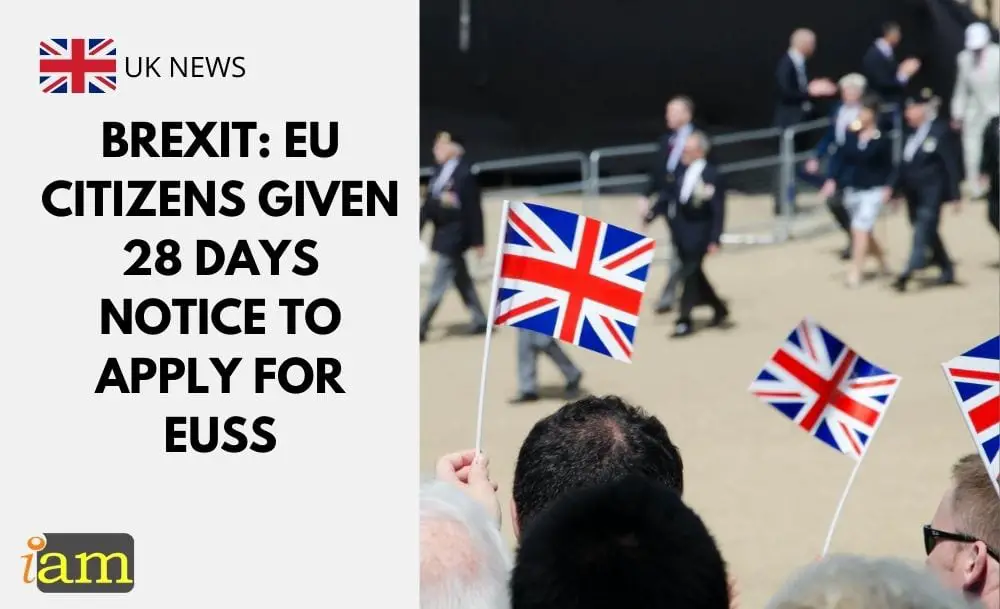 Tens of thousands of EU citizens will be issued with 28-day UK immigration notice should they miss the EU Settlement Scheme (EUSS) deadline on 30 June. 
The warning notices will notify EU citizens, who fail to make an application for the EUSS within a week of the deadline, to apply or risk the consequences, including losing their rights to healthcare and employment.
With less than a week to go until the EU Settlement Scheme deadline, the Home Office is increasing its efforts to reach those who are unaware of the rule change, including vulnerable groups such as the elderly and children in care.
Some 5.6 million European Economic Area (EEA) citizens and their dependents have applied for settled status.
But there are around 400,000 cases outstanding, and the government's helpline is receiving thousands of calls a day.
Brexit Outcome
Deadline Extension Ruled Out
The immigration minister, Kevin Foster, said it had ruled out extending the deadline despite a huge surge in applications, now running at 10,000 to 12,000 a day. 
Put simply, extending the deadline is not the solution to reaching those people who have not yet applied, and we would just be in a position further down the line where we would be asked to extend again, creating more uncertainties.

Immigration Minister Kevin Foster
However, he stated that EU citizens who had failed to apply by the deadline would not have their social welfare benefits cut off from 1 July and promised the Home Office would be flexible and lenient.
To accommodate those who will not have a decision for months, the government will issue a "certificate of application" that all applicants can "rely on as proof to access their right to work or rent", Foster said. It can also be used to access the NHS. "People will not lose their benefits next week," Foster told members of a House of Lords committee.
The Home Office confirmed that if after 28 days an individual had not applied to the scheme "they may be liable for enforcement action and will not be eligible for work, benefits or services".
It added: "Whether such action is taken will be determined in accordance with immigration enforcement policy guidance relating to those in breach of immigration law and following a careful assessment of the individual's circumstances."