British Airways Will Require Photo ID For Domestic Flights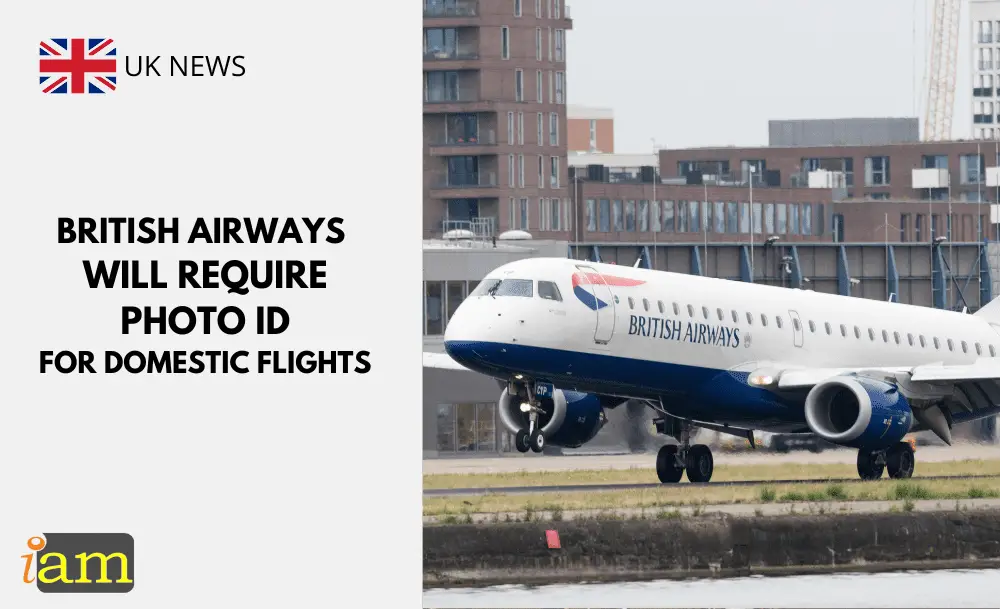 British Airways is changing its policy on identification when flying throughout England, Wales, Scotland and Northern Ireland.
British Airways is changing its policy to require photo ID from passengers on domestic flights from the beginning of September.
The airline does not currently insist on identification for customers travelling solely within the UK and carrying only hand baggage, although it does suggest they bring some.
From 01 September 2023, British Airway passengers aged 16 or over will have to bring one form of photo ID such as a passport, driving licence or EU national identity card. Most other airlines have already insisted on ID being required for domestic flights, but now British Airways is also implementing the change.
It is unclear why there has been such a rapid policy shift when the Civil Aviation Authority has consistently left this matter to individual airlines.
Andrew McConnell, a spokesperson for the CAA, said: "UK aviation security regulations do not require a passenger's identity to be checked for security purposes prior to boarding a domestic flight, in the same way when travelling within the mainland on a train or bus. Any further requirement on behalf of the carrier to provide identification may be a condition of travel by the carrier itself."
"You do not require a passport to travel within the UK, but you will need to carry one type of photographic ID when travelling with us. Examples include: valid passport; valid driving licence, either provisional or full; valid EU national identity card; valid armed forces identity card; valid police warrant card or badge."

The British Airways website
It adds: "Children under the age of 16 do not need to show identification when travelling on domestic flights. The adult they are travelling with must travel with photographic identification and be able to confirm their identity. Children aged 14 and 15 years who are flying alone will need to show identification when travelling on domestic flights."
It's not known whether British Airways will insist on checking everyone's ID on every flight around the UK. But, you must bring some along with you from next week just in case.
If valid identification is unavailable, passengers may be denied boarding their flight and as the rules are clearly stated, it's unlikely that they will get a refund. 
What are your thoughts on this issue? Talk to us in the comment section below. Or if you need more advice on the above, contact us for further travel & immigration advice.
Check out the deals we have found below and tell us your travel plans.
Check out the offers and discounts from:
And because of the pandemic, don't forget to get your travel insurance, which will cover you for flight disruptions and pandemic related matters.
IaM can help with your visa application to Europe, the United States, the UK & other countries
If you need help with a US visa, a UK Visa, or a visa to Europe, including help with appointment booking obligations, IaM can help. For more information and advice on US immigration, UK immigration law and US visa applications or if you need any help or assistance please, reach out to your Visa Coordinator at IaM.
Some of our posts include affiliate links. If you choose to purchase any of these products, we might get a small commission. For more information, check out our TOS.