Heathrow Airport 10-Day Strike To Cause Disruptions Over Easter Holidays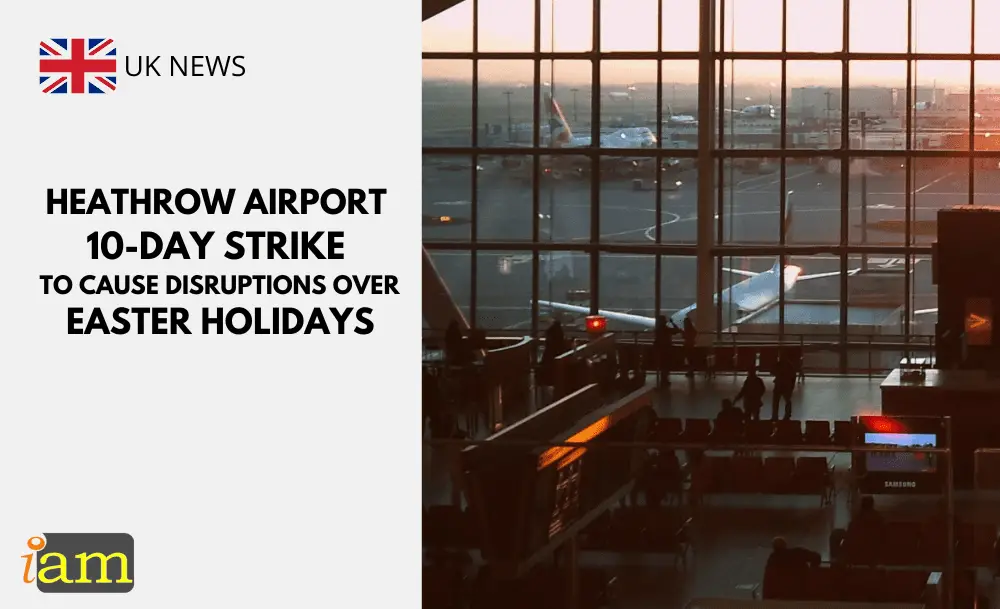 In recent weeks, travellers have been keeping a close eye on industrial actions within the travel sector with fears of long lines, cancelled flights, and general chaos. 
Security guards at London's Heathrow Airport are going on strike over the Easter holidays.
More than 1,400 security guards at the busy terminal are striking from 31 March until 9 April. The workers at Terminal 5, the main portal for British Airways, will be walking out for 10 days in a dispute over pay.
If you're planning to travel through Heathrow airport this Easter holiday period, you may want to brace yourself for potential disruptions.
Heathrow says contingency plans will be put in place to keep the airport open.
What's the Strike About?
The strike is the result of a dispute between the airport and the Unite union, which represents around 4,000 workers at Heathrow. The workers are responsible for a range of duties, including security, engineering, and firefighting.
Unite union secretary general Sharon Graham says Heathrow workers are on "poverty wages while the chief executive and senior managers enjoy huge salaries".
She adds that Unite members are "simply unable to make ends meet due to the low wages" and they are striking "due to need, not greed".
The airport contests this necessity, saying the wage proposal it has made is fair, and that "threatening to ruin people's hard-earned holidays with strike action will not improve the deal."
Last December, strike action by ground handlers at Heathrow was called off after an improved pay offer was made.
What Can Travellers Expect
Travellers are understandably concerned given the huge disruption to operations.
"Strike action will cause huge disruption and delays at Heathrow throughout Easter,"

Unite Regional Coordinating Officer Wayne King
The security guards taking action include those responsible for checking all cargo that enters the airport. So it's likely that Heathrow will need to move resources from other areas.
It could mean that queues are longer than normal, making it advisable to get to the airport in plenty of time.
It is recommended that travellers check with their airline for the latest information and updates about their flights. Airlines are likely to have contingency plans in place to minimise disruptions, such as rebooking passengers on alternative flights or offering refunds or vouchers.
Depending on your travel plans, it may be worth considering alternative airports that are not affected by the strike. However, keep in mind that these airports may also experience increased demand during the strike period.
Places To Visit During Easter
According to the latest survey by ABTA, demand for holidays abroad is back to pre-Covid levels.
According to Airbnb, the most popular international destinations for British tourists to visit in Easter include:
Dubai, UAE
Nice, France
Copenhagen, Denmark
Alicante, Spain
Athens, Greece 
Berlin, Germany 
Valencia, Spain
Dubrovnik, Croatia 
Prague, Czechia 
Krakow, Poland 
Spain has been the top overseas destination for British holidaymakers for years. British passport holders can visit the Schengen Area for 90 days without getting a visa. If they need to stay longer than 90 days within a 180-day period then they would need to get a visa. If you need assistance with a Schengen visa application, contact IaM.
What are your thoughts on this issue? Talk to us in the comment section below. Or if you need more advice on the above, contact us for further travel & immigration advice.
Check out the deals we have found below and tell us your travel plans.
Check out the offers and discounts from:
And because of the pandemic, don't forget to get your travel insurance, which will cover you for flight disruptions and pandemic related matters.
IaM can help with your visa application to Europe, the United States, the UK & other countries
If you need help with a US visa, a UK Visa, or a visa to Europe, including help with appointment booking obligations, IaM can help. For more information and advice on US immigration, UK immigration law and US visa applications or if you need any help or assistance please, reach out to your Visa Coordinator at IaM.
Some of our posts include affiliate links. If you choose to purchase any of these products, we might get a small commission. For more information, check out our TOS.