Germany Takes the Lead: The Country with the Highest Rate of Multiple-Entry Schengen Visa Approvals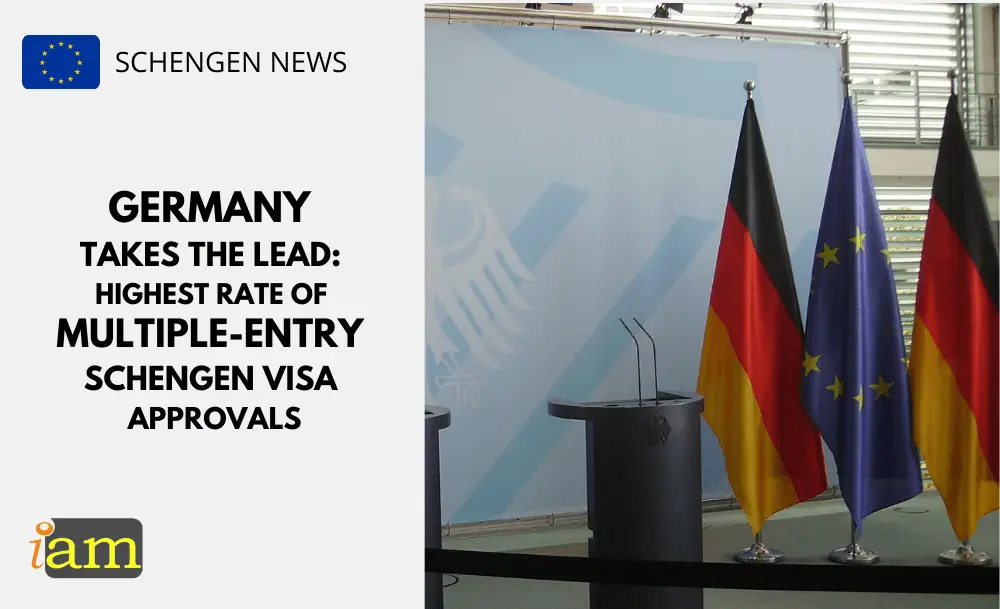 As summer approaches, travellers from all over the world are eagerly planning their holiday. For those dreaming of a multi-country European adventure, a multiple-entry visa unlocks a world of possibilities.
The latest data reveals that Germany is the best country for getting a multiple-entry Schengen visa. According to the Visa Statistics for Consulates 2022, more than 90.6 percent of the visas issued by the German consulates and visa centres located worldwide were multiple-entry visas (MEV), allowing their holder to enter the country more than once.
A Schengen visa is a short-stay visa that allows an individual to travel to any member of the Schengen Area for tourism or business purposes.
Aside from Germany, Slovenia, and Estonia also had the highest issuance rate for MEVs. Of the total visas issued, Slovenia granted 81.6 percent of visas for more than one entry, and Estonia granted 81.3 percent MEVs. Following them closely were Austria (79.4 percent) and Italy (73.8 percent).
Despite being the most visited destinations in Europe, France, and Spain received a significant number of visa applications but have a lower rate of granting multiple-entry visas. 
While Germany shines as a visa-friendly destination, Nordic countries such as Iceland (5.8 percent), Norway (33.6 percent), and Sweden (33.6 percent) have the lowest approval rates for multiple entry visas.
Schengen Visa Rejection Rates 2022
Germany not only leads in visa approvals but is also one of the members states with the lowest rejection rates among Schengen countries. There are numerous reasons why your Schengen visa application gets rejected. Check this blog post to see the common reasons why applications are refused.
According to this 2022 data, Germany only rejected 16.2 percent of applications it received.
Malta, Sweden, Belgium, and France are the countries that saw the highest rejection rates in 2022. 
In contrast, Iceland, Lithuania, Finland, and Latvia were the countries to have the lowest overall rejection rates, according to the data.
What Is A Schengen Visa
The European Union (EU) has established a common visa policy for transit or intended stays in the Schengen territories of no more than 90 days in any 180 days period. Schengen refers to the EU passport-free zone that covers 27 member states. 
A Schengen visa is a short-stay visa that allows an individual to travel to any member of the Schengen.
To know if you need a Schengen Visa to visit the Schengen area, check out our blog post. To apply for a Schengen visa to Germany, check out How to Apply for a Germany Schengen Visa for UK Residents.
If you need assistance to apply for a visa, reach out to IaM.
What are your thoughts on this issue? Talk to us in the comment section below. Or if you need more advice on the above, contact us for further travel & immigration advice.
Check out the deals we have found below and tell us your travel plans.
Check out the offers and discounts from:
And because of the pandemic, don't forget to get your travel insurance, which will cover you for flight disruptions and pandemic related matters.
IaM can help with your visa application to Europe, the United States, the UK & other countries
If you need help with a US visa, a UK Visa, or a visa to Europe, including help with appointment booking obligations, IaM can help. For more information and advice on US immigration, UK immigration law and US visa applications or if you need any help or assistance please, reach out to your Visa Coordinator at IaM.
Some of our posts include affiliate links. If you choose to purchase any of these products, we might get a small commission. For more information, check out our TOS.