France Wants To Delay Entry/Exit System Until August 2024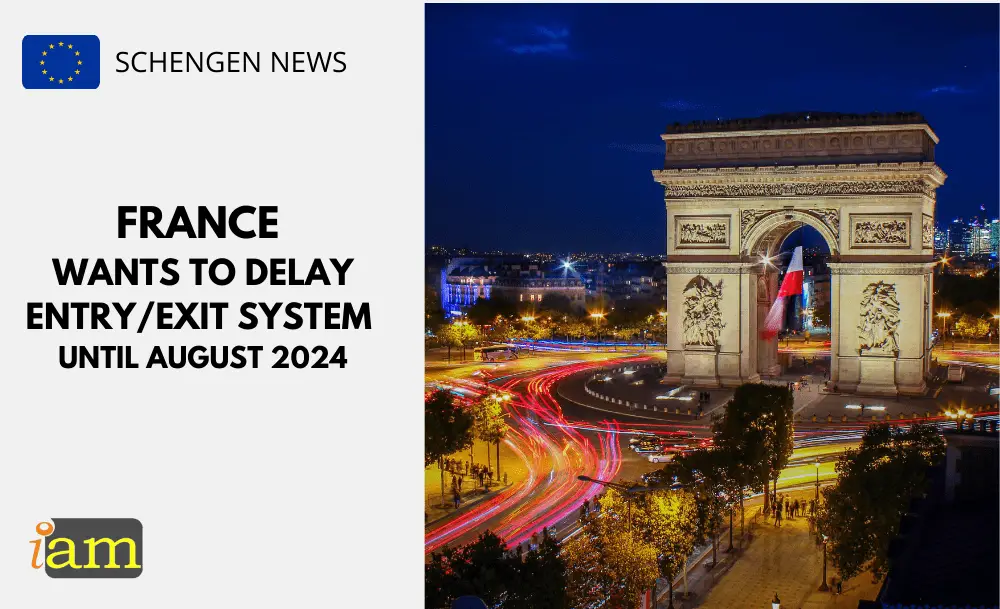 The President of France, Emmanuel Macron, intends to delay the launch of the biometric Entry-Exit System (EES) until after the Paris Olympics in August 2024.
Paris will host the 2024 Olympic Games from 26 July to 11 August 2024 and France expects millions of visitors during this period.
The EU entry/exit system (EES) requires new infrastructure changes at the external borders and France wants to avoid any initial hitches as millions of people are expected to travel to Paris from around the world.
The EES will require third-country nationals arriving for short stays to register and have their biometrics and photograph taken at the border the first time they enter the Schengen area.
The system will enable the automatic scanning of passports replacing manual stamping by border guards. It will collect the data of non-EU nationals each time they cross the external borders and store it in a centralised database shared among the Schengen countries.
Already delayed until November 2023, France's proposals would add another nine months of passport stamping for third-country arrivals into the EU. There has been no sign yet whether the French will be able to persuade other EU member states to further delay EES.
What This Means To Travellers
A number of countries last year admitted they feared delays and insufficient time to test the process. Airlines also called on European authorities to plan a "public communications campaign" to alert non-EU nationals about the new requirements.
There are also concerns that implementing the new system when a great deal of tourists descend in France may result in airport congestion because it will take each non-EU citizen roughly 10 minutes to register for the first time.
If the EES will be delayed after August 2024, it means non-EU travellers entering the Schengen Area will be free from the anticipated disruption of the new border controls for quite some time. This also means there aren't many ways for member states to determine whether non-EU travellers have exceeded the 90-day limit currently in place.
EU's New Border Management
The delay of EES has also delayed the introduction of the European Travel Information and Authorisation (ETIAS), which was supposed to be launched in November of this year. ETIAS has been postponed to 2024, and the date for its implementation is not yet known.
ETIAS is designed to improve security by requiring non-EU nationals that do not need a visa to enter the Schengen area to pre-register before arrival and pay a fee of €7. Once approved, the electronic travel authorisation will be electronically linked to an individual's passport and will last for three years.
Another EU border management measure, the upgraded Schengen Information System (SIS) entered into operation on 7 March 2023. This provides information on wanted or missing persons, non-EU citizens with no legal right to stay in the EU, and lost or stolen objects, including identity documents.
According to a press release of the EU Commission, SIS will be part of the interoperability architecture of the basis of the most advanced border management system in the world, which is being built by the EU.
"As of today, the renewed SIS is operational in 30 countries throughout Europe (26 EU Member States and the Schengen associated countries). The connection of Cyprus to SIS in summer 2023 will further extend security cooperation throughout the entire Union,"

EU Commission Statement
Paris Olympics 2024
Paris is hosting the Summer Olympics in 2024 from 26 July to 11 August 2024.
As the countdown to the games continues, anticipation is building among athletes, spectators, and sports enthusiasts worldwide.
The Paris Olympics 2024 will see around 10,500 athletes from 206 National Olympic Committees competing for medals. The games will showcase athletes from all over the world.
If you're interested in attending the Paris Olympics 2024, you can find information about tickets and accommodation on the official website of the games. Ticket prices will vary depending on the event and venue, and there will be a limited number of tickets available for each event. Alternatively, you can volunteer your time and experience the behind-the-scenes of the world's biggest sporting event. To know more about this, check out our blog post.
In order not to miss out on this special event, non-EU citizens who need a visa to France need to secure a tourist Schengen Visa. Find out how to start your French Schengen Visa application in the UK.
What are your thoughts on this issue? Talk to us in the comment section below. Or if you need more advice on the above, contact us for further travel & immigration advice.
Check out the deals we have found below and tell us your travel plans.
Check out the offers and discounts from:
And because of the pandemic, don't forget to get your travel insurance, which will cover you for flight disruptions and pandemic related matters.
IaM can help with your visa application to Europe, the United States, the UK & other countries
If you need help with a US visa, a UK Visa, or a visa to Europe, including help with appointment booking obligations, IaM can help. For more information and advice on US immigration, UK immigration law and US visa applications or if you need any help or assistance please, reach out to your Visa Coordinator at IaM.
Some of our posts include affiliate links. If you choose to purchase any of these products, we might get a small commission. For more information, check out our TOS.