Paris Olympics 2024: Make History as a Volunteer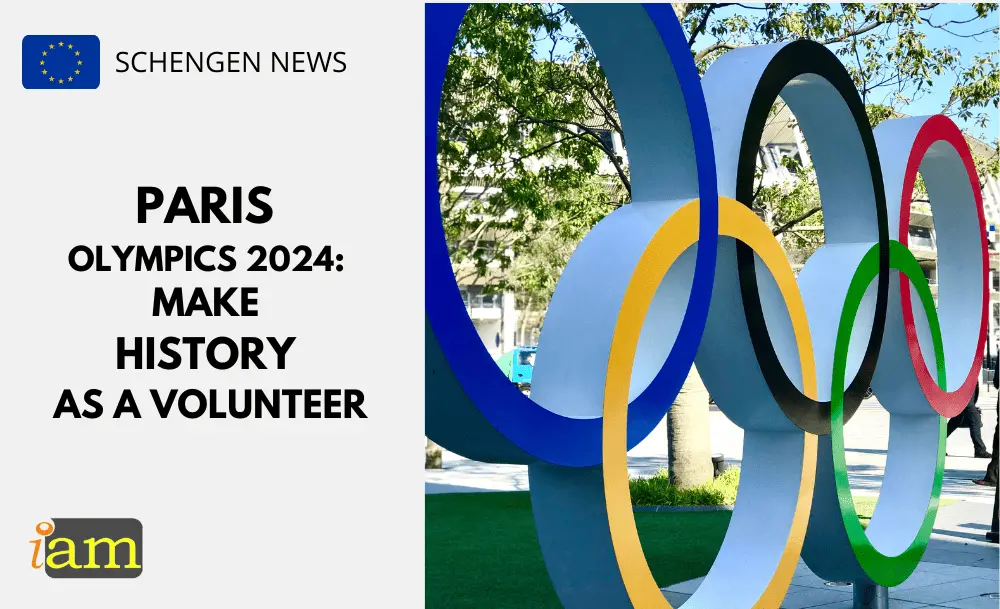 Paris is buzzing with excitement as it prepares to host the Summer Olympics in 2024.
Paris has a long history with the Olympics, having hosted the games twice in 1900 and 1924. Paris is the fourth city to host the Summer Olympics three times, joining the ranks of London, Athens, and Los Angeles.
Paris 2024 has opened applications for 45,000 volunteers to support the success of the Olympics Games. The 2024 Summer Olympics will be held on 26 July to 11 August 2024.
This is your chance to be a part of one of the world's largest and most exciting events.
In this blog post, we take a look if you can volunteer and what you need to know to be a part of this exciting event.
What It Takes To Volunteer
If you want to volunteer, you must meet three criteria: 
Speak either French or English fluently; 
Be at least 18 years old on 1 January 2024 and 
Be available for at least 10 days while the Olympics is taking place
Volunteers won't be paid for their time, but it's a chance to see behind the scenes of the world's biggest sporting event.
"Our volunteers will be at the heart of the greatest sporting event on the planet and directly contributing to its success," says Tony Estanguet, President of the Paris 2024 organising committee.
Please note that volunteers are required to handle their own travel and accommodation arrangements. Non-EU citizens must ensure they have the appropriate visa to legally stay in France during the event. Volunteers who need a visa can apply for a Schengen Tourist visa. If you need assistance with Schengen Visa applications, reach out to IaM.
Meals and local transport costs will be covered
According to reports, the organisers are particularly keen to recruit people with a disability.
Roles of Olympic Volunteers
As a volunteer for Paris 2024, you'll have the incredible opportunity to be the first person athletes and spectators meet when they arrive at the Games. This means you'll be the face of France's hospitality and values, and an essential part of creating a warm and welcoming atmosphere for everyone involved.
Approximately 60% of volunteers will be involved in welcoming the public, including the media, while 35% will assist with sporting events. The remaining 5% will be responsible for logistics, such as distributing uniforms and accreditations. 
Volunteers are expected to work around eight hours a day, with a minimum of 11 hours off between shifts and one day off per week.
While the majority of volunteers will be based in Paris, around 5,000 volunteers will have the opportunity to travel to other Games venues throughout France, including Bordeaux, Nantes, Marseille, Nice, Saint-Etienne, Lyon, Lille, and Châteauroux.
Want to be a part of the Paris 2024 Olympic Games? The application portal is now open.
France Wants EES Launch After Paris Olympics 2024
The President of France, Emmanuel Macron, expressed his intention to delay the launch of the biometric Entry-Exit System (EES) until after the Paris Olympics in August 2024. He cited concerns that concerns the initial hiccups of the new system will affect the tourists that will come to France during the Olympics next year.
Do you want to be part of the Paris Olympic Games next year? Talk to us in the comment section below. Or if you need more advice on the above, contact us for further travel & immigration advice.
Check out the deals we have found below and tell us your travel plans.
Check out the offers and discounts from:
And because of the pandemic, don't forget to get your travel insurance, which will cover you for flight disruptions and pandemic related matters.
IaM can help with your visa application to Europe, the United States, the UK & other countries
If you need help with a US visa, a UK Visa, or a visa to Europe, including help with appointment booking obligations, IaM can help. For more information and advice on US immigration, UK immigration law and US visa applications or if you need any help or assistance please, reach out to your Visa Coordinator at IaM.
Some of our posts include affiliate links. If you choose to purchase any of these products, we might get a small commission. For more information, check out our TOS.