Croatia Removed Air Border Controls With Schengen Countries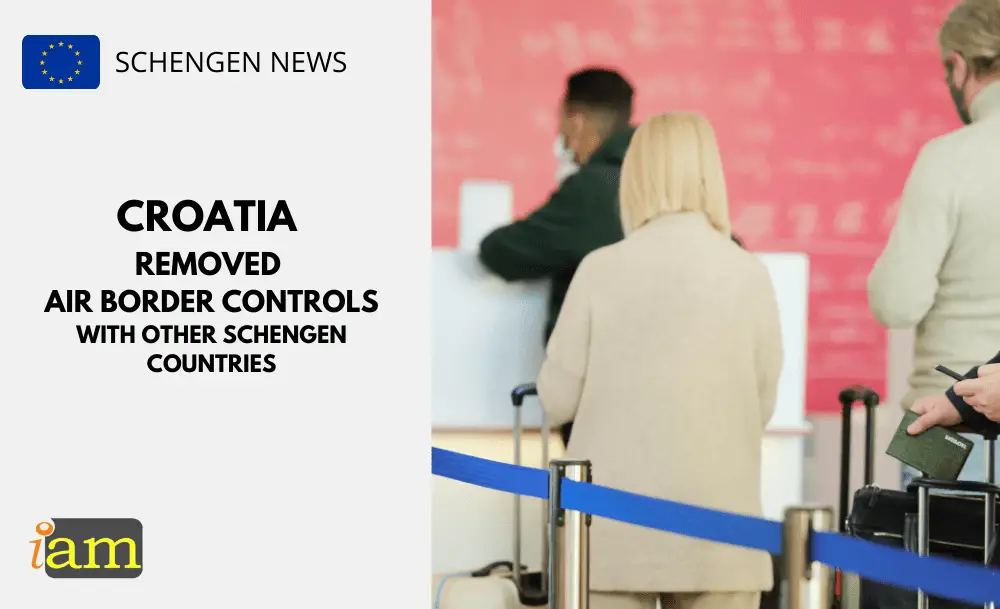 Croatia has removed its air border controls for travel to and from Schengen Area countries.
Following Croatia's accession to Europe's Schengen Area earlier this year, Croatia eliminated its internal land and sea borders as of 01 January, though its air borders remained operational until 26 March.
Now, passengers flying between Croatia and other countries within the borderless travel zone will be treated the same as the country's domestic travellers.
Croatia also started using the euro in January 2023. It has also started issuing Schengen visas and can fully utilise the Schengen Information System.
There are now four EU countries that are outside the Schengen Zone which are Bulgaria, Romania, Cyprus, and Ireland.
Visits To Croatia Counted Towards the Schengen 90 Days Limit
Since 1 January of this year, your visit to Croatia is counted towards the 90 days period.
This means that people from visa-free countries in the Schengen Area who have been using Croatia as a way to restart their 90-day stay in the Schengen Area will not be able to do it anymore.
But you do not have to worry as there are other destinations you can go to and stay to "reset" the 90-day rule.
If your travel plan is a long-term backpacking trip in Europe and a 90-day Schengen limit is not enough, there's an easy way to stay longer that's totally legal. Travellers can visit and explore the following destinations and re-enter the Schengen area again.
Albania
Belarus
Bosnia and Herzegovina
Bulgaria
Montenegro
North Macedonia
Romania
Serbia
How To Apply for a Schengen Visa To Croatia
As the newest Schengen state, Croatia's acceptance into the Schengen area means that visa requirements to enter Croatia falls in line with the rest of the Zone.
Some non-EU tourists do not need a visa to enter Croatia for short-term visits such as citizens of the UK, the US, Canada, Australia and New Zealand. Soon, the EU will launch its border management systems, Entry/Exit System (EES) and European Travel Information and Authorisation System (ETIAS). Check our blog post on EES and ETIAS to know how the new systems work.
Those who need a visa to enter Croatia need to apply for a Schengen Visa at the Croatian Embassy/Consular Department in their country of residence. Check out who needs a visa to visit the Schengen Area.
Travellers planning on going around the Schengen Zone should apply for a Schengen visa from the country where they spend the longest stay.
Follow these steps to apply for a Schengen Visa to visit Croatia.
Step 1: Determine the purpose of travelling to Croatia to choose the appropriate type of visa you should apply for.
Step 2: Gather the required documents
Step 3: Fill out the application form
Step 4: Book an appointment with the embassy/consulate or at the visa application centre and pay the application
Submit your application at least 15 days prior to the day you intend to travel, and no earlier than 6 months before you leave. It would typically take 15-45 days to process your application.
If you need assistance with your Schengen Visa application, IaM can help. You can start your Schengen Visa application here.
What are your thoughts on this issue? Talk to us in the comment section below. Or if you need more advice on the above, contact us for further travel & immigration advice.
Check out the deals we have found below and tell us your travel plans.
Check out the offers and discounts from:
And because of the pandemic, don't forget to get your travel insurance, which will cover you for flight disruptions and pandemic related matters.
IaM can help with your visa application to Europe, the United States, the UK & other countries
If you need help with a US visa, a UK Visa, or a visa to Europe, including help with appointment booking obligations, IaM can help. For more information and advice on US immigration, UK immigration law and US visa applications or if you need any help or assistance please, reach out to your Visa Coordinator at IaM.
Some of our posts include affiliate links. If you choose to purchase any of these products, we might get a small commission. For more information, check out our TOS.